What's New
Savannah Kittens for Sale
Please call (651) 775-2997 if you have any questions or email me at midwestmysticals@yahoo.com
If your interested in seeing what my breeders produce-go to past kittens and fun photos.
please call or email if you'd like any random photos on any kitten you like.!! Always happy to answer any questions you may have. thank you ! These kittens would love to be in their forever homes , someone to snuggle with and buddies. They love attention !!!

All vaccinations done & health exams. !!!
I Have reduced my adoption prices!
This Fall kitten - adoption fee's will go back to the same!
female F 5 C kitten born 3-23-19
Looking for her forever home.very sweet!

Mother :Nala F 5
Father: Sir nero F 5 C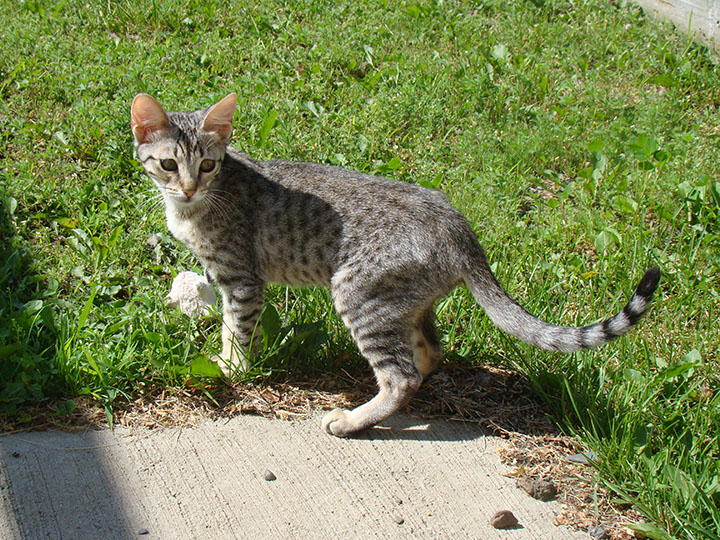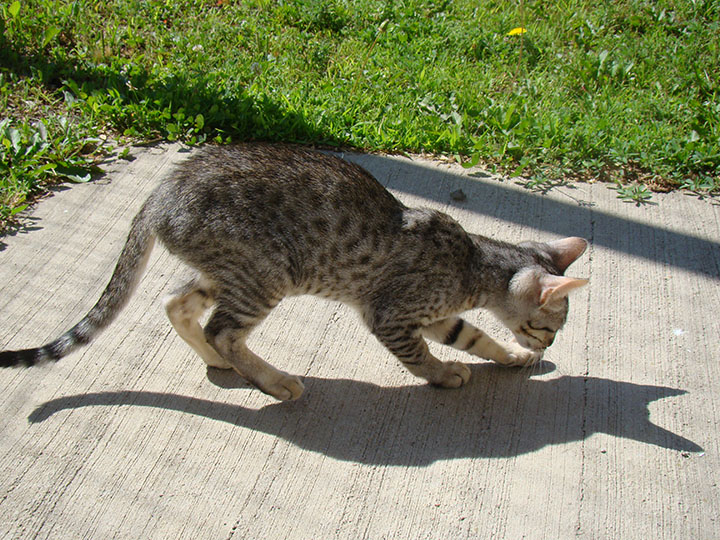 Nalas kitten at 12 weeks-she has legs. spots coming out more all the time as she grows.
F 5 SBT'S Kittens Born 4-6-19

Mother Peacon F 4 C
Father: Sir Nero F 5 C
3 females & 1 male
1 female is sold

male kitten sold
the brown spotted and silver kitten is up for adoption!!!!!

Very sweet & playful-looking for that forever home - ready now.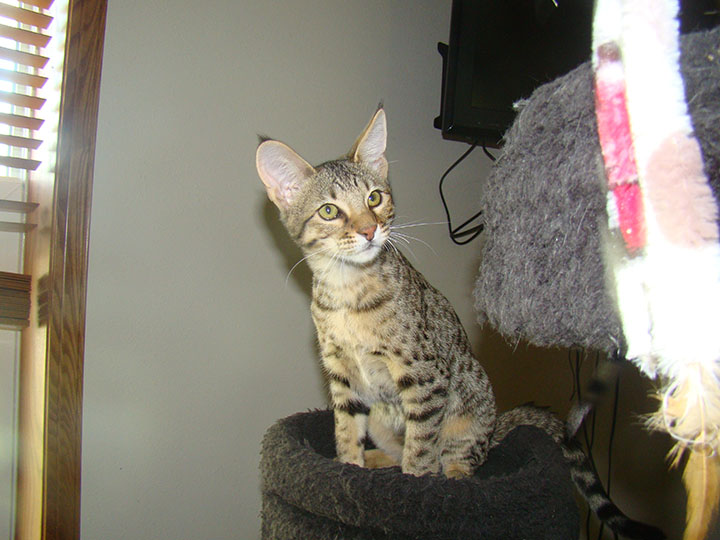 Peacons F 5 SBT at 14 weeks. Picture is a bit bright spots coming out more everyday. Shes So Sweet/loving and reminds me of her brother who is sold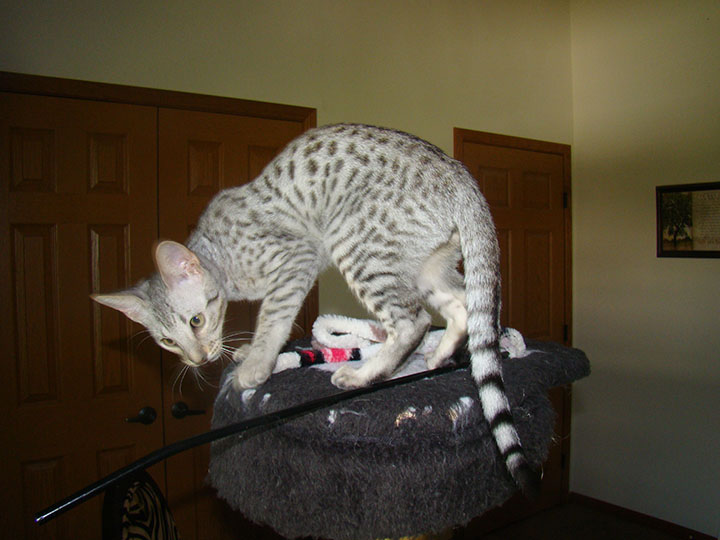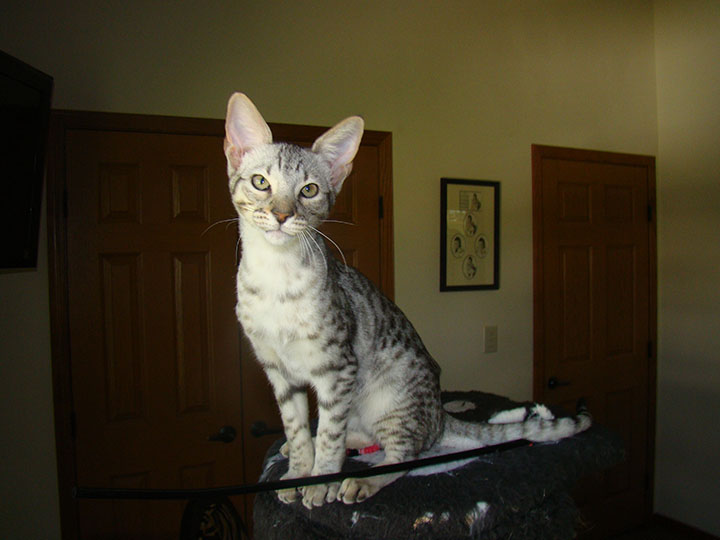 Peacons F 5 SBT Silver-she likes to smiles , sweet !! and loving. ( 14 weeks)

F 5 C kittens born 4-1-19 -2 males and 3 females
mother bree F 4
father mr. mr. F 5 C
all males sold
2 females up for adoption

Information on all the kittens & pictures please scroll down. thank you.

This will be Nalas & brees last batch they have produced awesome kittens!! through the years. will be retired and staying here.
. Brees kittens Spots are coming out more everyday!! they love attention!! nice size kittens. sorrry the pictures arent the greatest.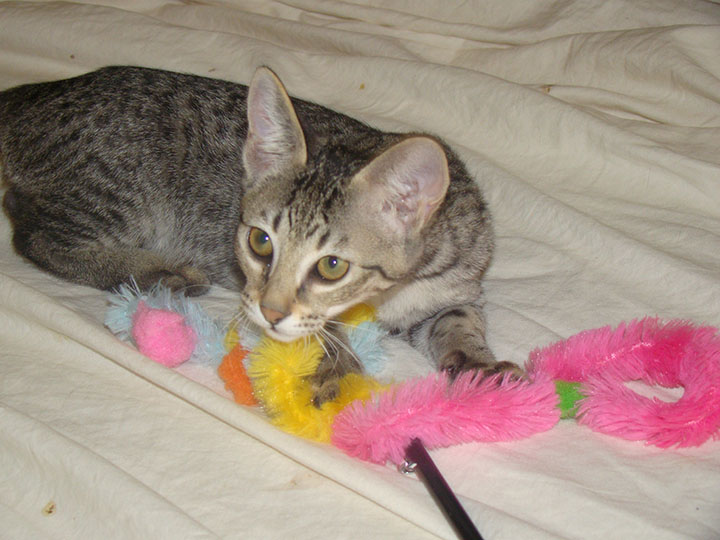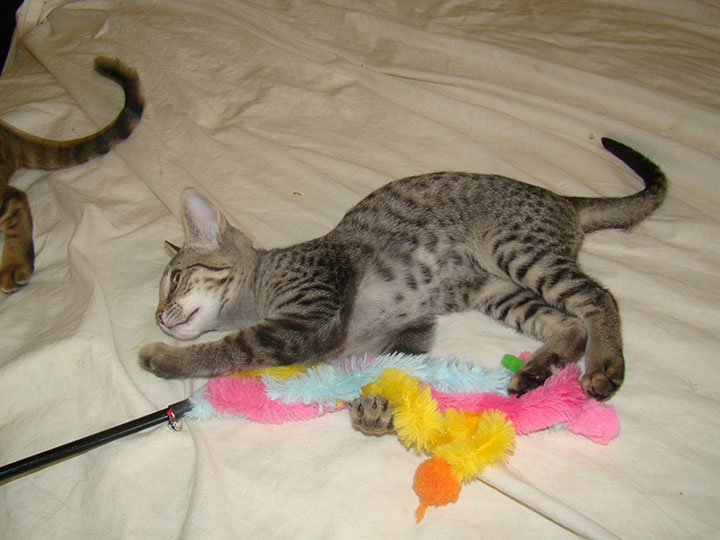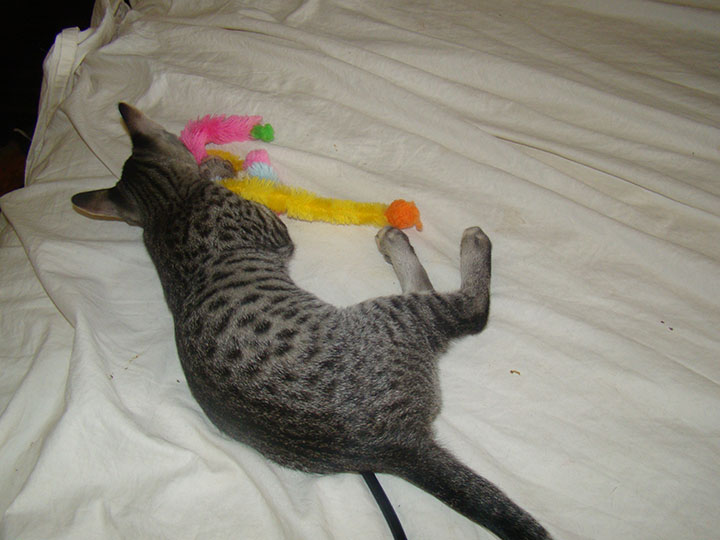 brees kitten at 12 weeks. hard to see the spots under the fuzzes. Dark spots with the sliver/gray coat. very sweet!!

Staying at Midwest Mysticals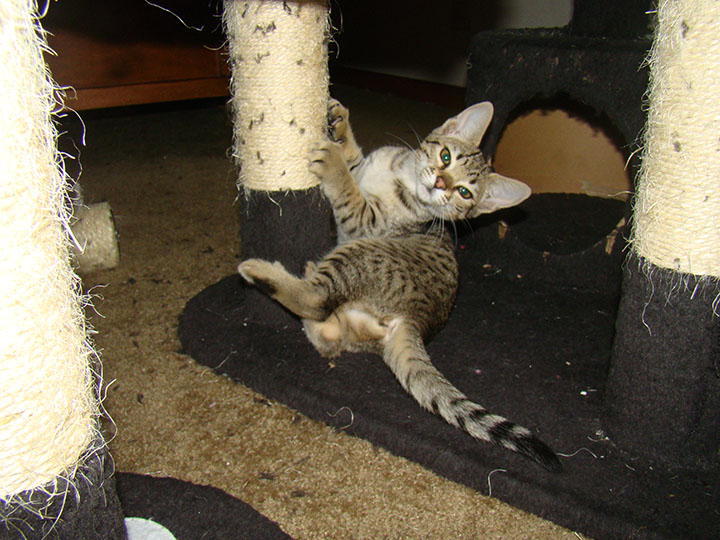 Girl 2.Brees F 5 C they love that old tower. she is so sweet- up for adoption. Spots coming out more everyday. nice size kitty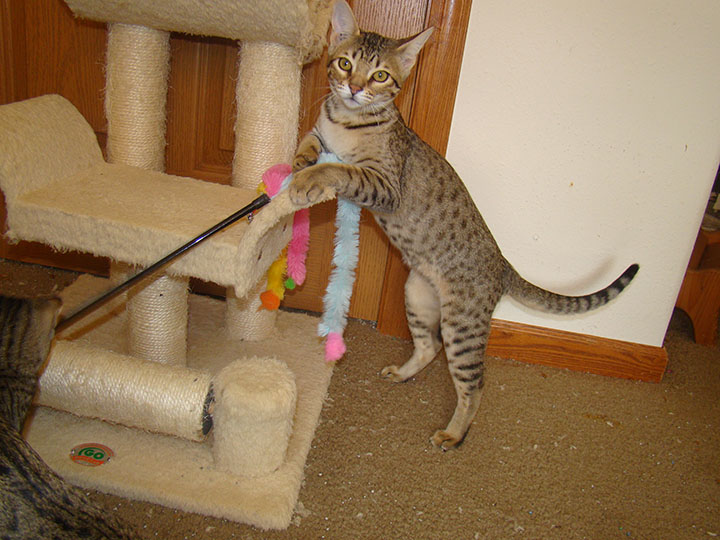 Girl 1-brees F 5 C - A cutie too! spots coming out more. nice size kitty ( 14 weeks)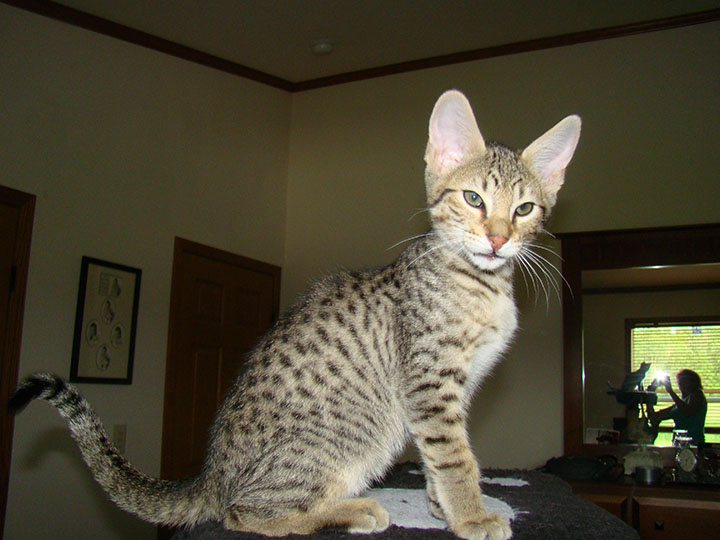 Boy 1 F 5 C I do my best-but you can tell in the fuzzes!( sold)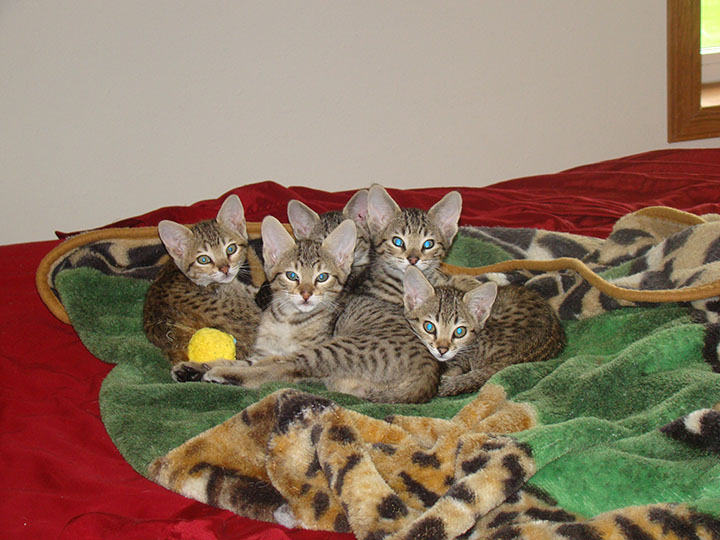 Brees kittens at 8 weeks pictures is a bit bright. Oh my ! we have ears and spots. changing all the time, They're on the go all the time.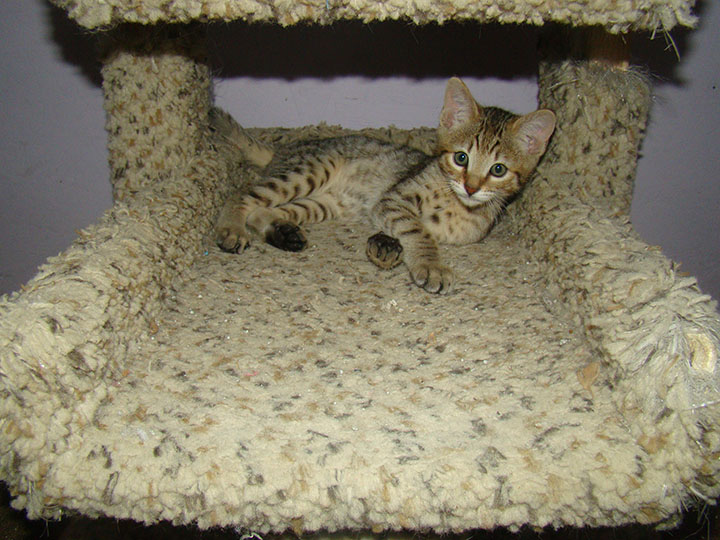 Kashette kitten at 10 weeks.( sold)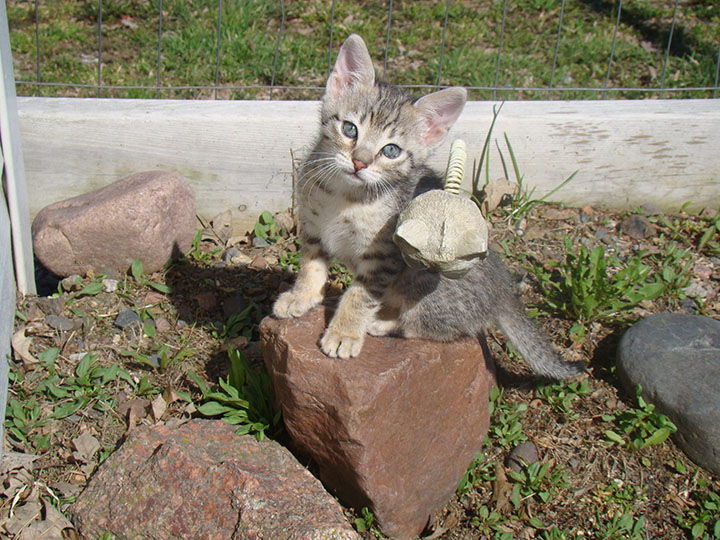 Nalas kitten at 5 weeks. Enjoy some sun with mom. hard to see her beautiful spots.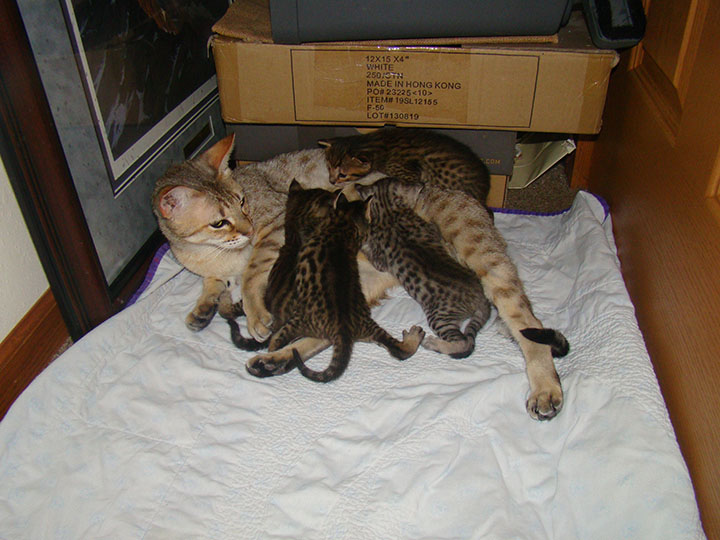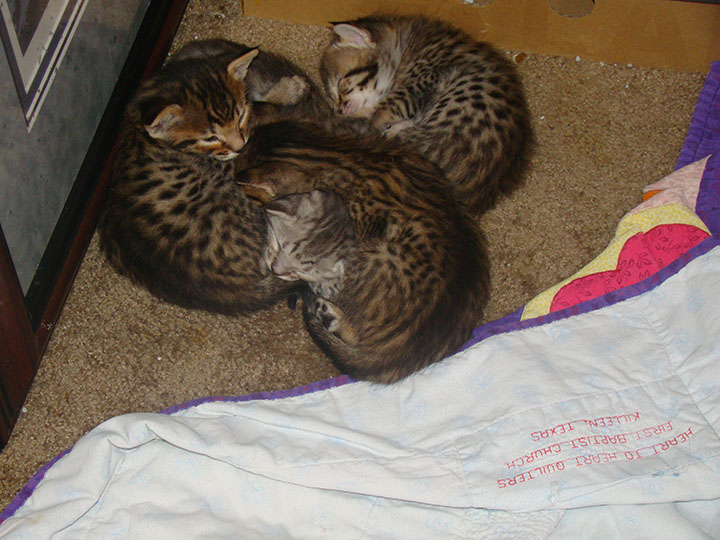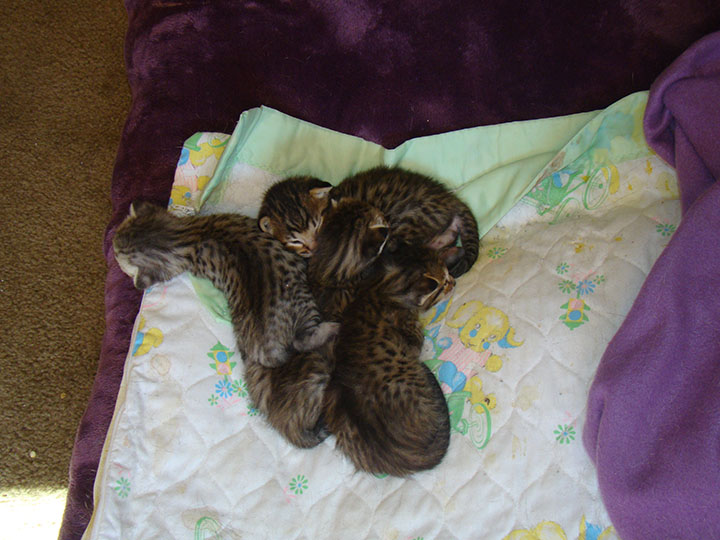 Peacon kittens F 5 SBT'S at 2 & 3 weeks -born 4-6-19 . Excellent spots, ear type ,markings and already showing the oceli behind the ear. they are on the go now, and kitty wrestling with each other- Beautiful silver and 3 brown spotted. The boy has the dark nose like serval.&(quite the batty kooda ears) spots are coming out more everyday as they grow.

3 females & 1 male
1 female sold
male is sold
silver girl & brown spotted girl up for adoption

I have reduced my adoption prices. ( Even though my prices have been the same for years and my customers/repeat buyers know they adopt a healthy/quality kitten-questions on the quality of kittens I have adopted out - please go to my testimonial page) But my 2 beautiful breeders peacon and Bree had delivered more kittens than their usual past batchs. . So cute!!! Healthy ,and doing well with moms. I'm more concerned that my kittens be in good loving homes. (breeding the higher quality blood lines in the pure savannahs is not cheap ! and there are allot of other factors involved.)
Thank you ! I enjoy talking / working with people & and answering any questions they may have.please call or email for pricing

I'm very excited about my newest Additions to Midwest Mysticals
Peacon & Kashette-pictures under the breeder category.

Two F 4 C Kittens from Tamarac Exotics Will producing more C's & SBT's in the year 2018
She is out of LT F 1 Savannah ( Tennesse) - Peanut F 3 C
Mother is Clawed Monet Storm F 2 B
From Clawed Monet savannahs in Alabama

Father is Wesa Lucas F 7 C
From Wesa Savannahs Nevada
Peanut was bred to Blu-a Licious out of
Fuzionkatz Cabos out of Midwest mysticals
With lines going back out of Drink water Savannahs from Florida
All my breeders going back to 4 & 5 generations have very strong & high-quality lines.
If you're interested in what my breeders produce go to Past Kittens and Fun Photos.
Savannahs do very well with children and other pets. Their very loving and enjoy a lot of attention. A wonderful breed to be a part of your family.
A true Savannah is spotted
A 500.00 dollar holding fee to hold your new kitten.
Non-Refundable
All kittens will have 2 distemper shots & a health exam done before going to their new loving home
page updated 8/16/19
To help summarize the F generation & Letters
F 1 is the highest and will carry at least 50% serval
the higher the number the lower serval % they will carry
The letter after the "F" A means one parent is an (outcross-another breed)
B means the parents are savannahs
C means Parents and Grandparents
SBT means parents, grandparents & Great-grandparents are savannahs
If you have any questions to further summarize this Please call. I'd be happy to answer any questions you may have.
Typical Savannah Kitten Prices
Females
Males
Ask for breeder prices
Prices are determined on generation, spots and ear type.
Good quality Savannahs are not inexpensive in that you will find you get what you pay for. As a breeder I invest a lot of time in raising each of these high quality kittens.
Please call if you have any questions. (651) 775-2997.